6 kitchen remodeling trends for 2020 and what you need to keep in mind before you start
The first trend I would like to pay attention to is the semi-open kitchen concept.
In the last decade, the only concept that everyone desires in a newly renovated house or newly purchased was the open kitchen concept. in 2020 the trend changes more towards keeping a dividing wall between the kitchen and the dining-living room area Instead of removing the walls, archways or installing sliding doors that give rooms a little hint of separation. Also, financially just building an archway on an existing wall is way cheaper than removing the wall and rerouting all electrical switches and outlets that are on it already to another wall.
Check all pictures below that will give an idea of how kitchen arches, slats made of wood, a glass wall partition, and a through window showing all levels of open and closed-off spaces.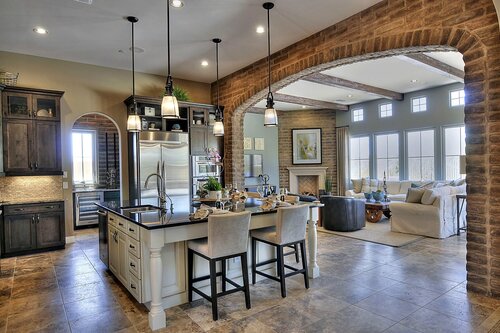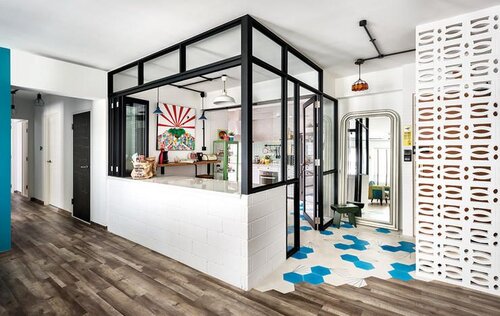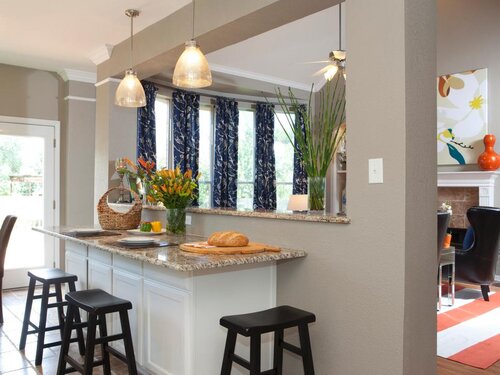 The shiny nickel appliances are already not the most desirable type people prefer in their kitchens.
The warm metallics are the newest trend in appliances.
More luxe gold tones like gold and brass are starting to appear in the kitchen remodels and can either match other warm surfaces (such as wood cabinets) or be in stark contrast for a pop against the white.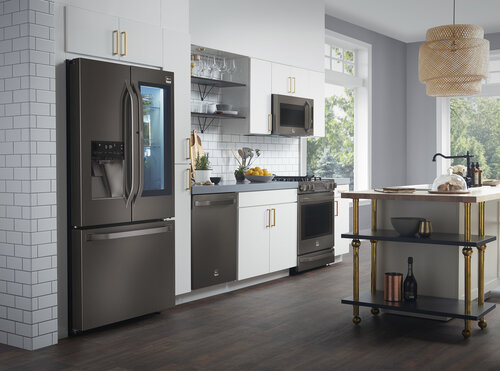 Textured tiles make all the difference between the traditional kitchen and the 2020 trend.
Want to add more depth to your design? Ever thought about textured tiles, which we see as a lasting "trend." Used with proper combination with the kitchen cabinetry, they add a special vision of your kitchen, or you can go all the way and cover the entire length of the backsplash. Tiles can be subtle or dramatic, depending on the material used, shape, color, or finish—so they really suit any taste. But be advised, unusual shapes or irregular sizes (such as mosaics), which often come along with using textured tile, can add very steep labor costs.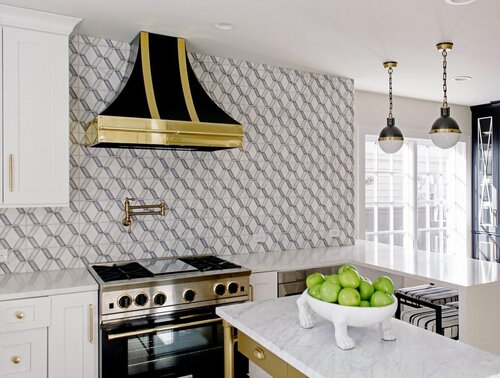 Kitchen drawers open up Cabinet drawers make organization easy and efficient.
The normal lower cabinet is 2 feet deep, which means it's easy for things to be lost in it in the night with not enough light. With drawers, that problem goes away about this, plus, you can easily make sure things stay in place by adding dividers. It's important to remember that drawers can't be too wide or they will sag in the middle with the years of use. The cost of it will be higher than cabinets, but in our opinion, they are really worth it if you planning any home renovation in 2020.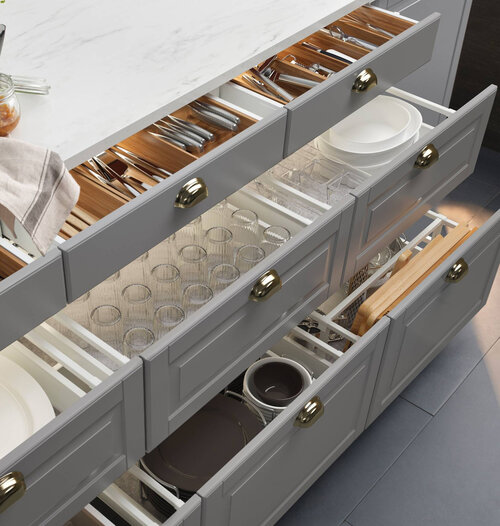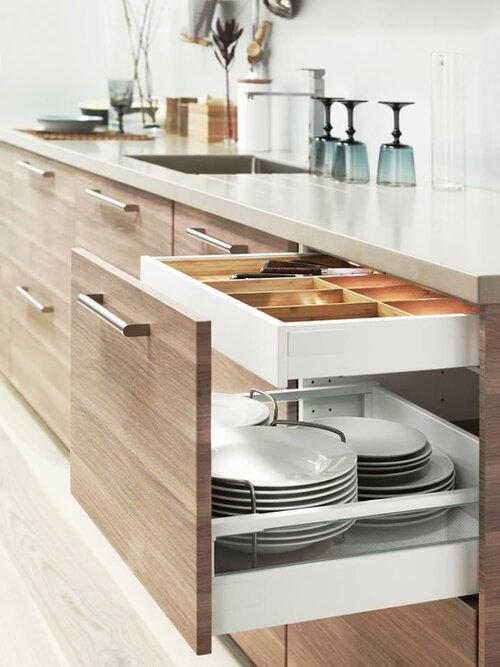 Herringbone points the way Deviating from traditional patterns is a chic way to add visual interest to space.
With the trend in the tiled floors, we are noticing a rise in the choice of herringbone tiled floors. As with most design decisions, each comes with pros and cons.
Pro: It is a great way to use regular materials, like subway tiles, in non-traditional ways.
Con: it can come with a steep cost for installation (herringbone flooring, for example, may cost 30 percent more than regular tiled floors). So just be sure to calculate your cost correctly as you are sourcing your renovation materials.
The fridges are started getting out of the kitchen.
A total distancing of the traditional stove, sink and fridge configuration that many people still follow. The new millennials buyers call for a more updated and not traditional design. Those with rational and traditional thinking will keep the layout and space to fit a refrigerator closer to the sink are instead choosing to put the appliance outside of the center of the designed kitchen. This allows for better use, functionality and it allows more working space especially when 2 people cooking at the same time.
37 different kitchen designs that will be popular in 2020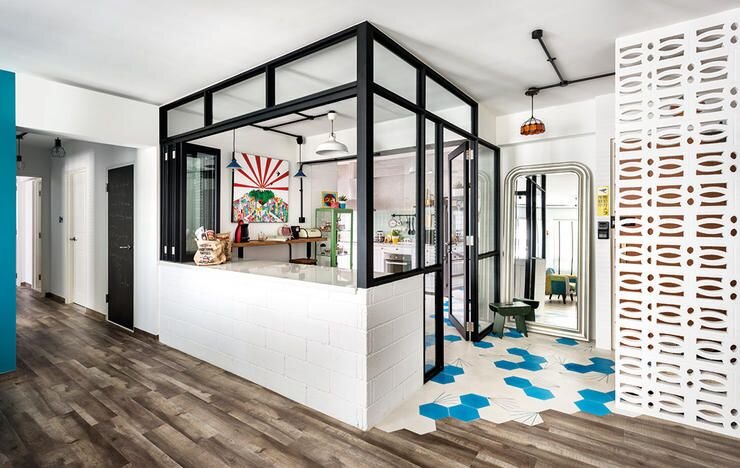 Kitchen Remodel Ideas:
Things to Keep in Mind If you would like to give your home a fresh look, why not start in your kitchen renovation? In many households, the kitchen is the main hub for family interaction and activity. From breakfast with the family, homework with the kids to a late-night snack before bedtime, you want your kitchen to be pleasing and functional for all of your family's needs. If your home is ready for remodeling but you don't have any kitchen remodel ideas, don't be wary. A kitchen remodel doesn't have to be as crazy expensive as most people think when the time comes to do so. Just keep your family's needs in mind and use your imagination, and you will be able to plan and execute your kitchen remodel easier than you think! Therefore we at SITL Home Renovation and Design prepared a list of points to prepare when planning your kitchen remodel.
Budget:
Every household has a different budget set up for home renovation, but there are things you can do to remodel your kitchen without exhausting your saving to the maximum. A fresh coat of paint in an exciting, bright color in combination with new kitchen cabinet hardware can make your kitchen look like an updated kitchen, at a low cost. If you can't afford to replace your countertops, consider updating the backsplash only instead. It will make all difference.
Needs:
If your range and fridge are already too old, they should be at the top of your list. Peeling paint or a kitchen table that is too small for your growing family are other items that should be at a high priority when remodeling your kitchen.
Wants:
If your dishwasher is still functioning but would like a newer, better-looking model, this should be added to your list of wants. It shouldn't be the last priority, but it should be a lower priority than the items on your needs list. Sometimes, if needed, you should twist your wants list; perhaps you can afford a new dishwasher, but not the one that you always want.
Storage and organization:
Storage and organization are key to a functional and eye-appealing kitchen. If installing new kitchen cabinets is not an option, think about installing newer shelves instead. There are so many attractive storage and organization materials available on the market today that you can choose from and completely reorganize your kitchen.
Was this Article helpful?Yes
(0) No
(0)